Explore the Coworking Space
Take a virtual stroll through our brand new 60,000 square foot coworking space.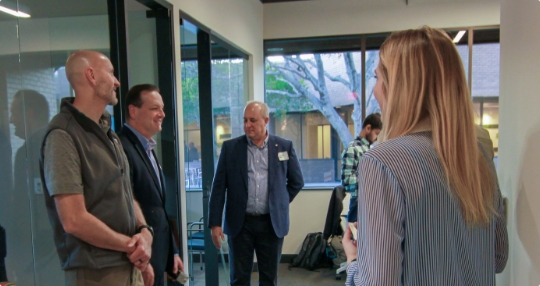 Take a Tour With Us
From flexible workspaces and office suites to the conference rooms and event center, we have the perfect space for teams of all sizes.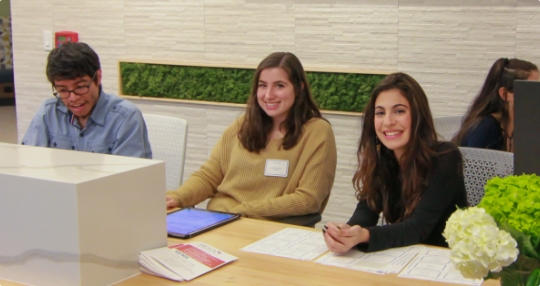 Book a Day Pass
Looking to see if coworking is right for you? Or just need a workspace from time to time? Experience HEXA with a day pass.
We needed a place for a five day fundraising by phone event after losing our previous accommodations to Covid. The HEXA space was gorgeous, bright and spacious with extra care taken for virus sanitation and social distancing. The staff was wonderful to work with and all the volunteers were very pleased with the space. Highly recommend this co-working business for any of your business space needs.

Patricia Wentrcek


January 13, 2021

One of the most beautiful office spaces I've ever seen and quite convenient to everything. Reminds me a corporate campus but much more modern and innovative. Great co working space with inexpensive options for contactors or corporations. Wonderful ability to network with others and bounce ideas of each other.

Matt Adams


October 13, 2020

This is an amazing place to spend your work day. The renovated building is beautiful and the amenities are by far the best I have ever seen in a coworking space. They provide a really great balance of perks for you to have a productive, yet relaxing, work day. The free gym and coffee lounge are my favorite!

Katie Mouton


October 9, 2020

Beautifully renovated facility, close to many restaurants and easily accessible. A little "Google campus" in the middle of Richardson that offer flexible rentals with everything you need to work as a contractor or full fledged organization. The other companies are all start up and entrepreneurs open to ideas and mentoring opportunities.

Stephen Grindrod


October 7, 2020

What a great facility! Modern, clean, open, and sunny with every amenity you could want. I love coming to work here and interacting with so many friendly people all more than happy to help and collaborate. The energy is incredible! Need a break during the action - no problem! There's the huge coffee area. There's the inner atrium to sit in the sun or hit a few putts in. And if you need some quiet, there's call rooms or meditation rooms. This facility has it all! Could not recommend it more!

Ryan Bovermann


October 7, 2020

HEXA Co-working is truly one of a kind. You feel that there is a better energy here than other places. There is no other place to find a better value considering the resources and amenities you have access to here. This facility and ecosystem is an entrepreneur's dream. Along with that, you're always greeted with a smile and I've met some of the nicest people In my entire life here. Highly recommended.

Evan Oldenburg


October 6, 2020

HEXA is a fantastic co-working facility. Great location, amenities, friendly people and beautiful design. We are proud to call HEXA our home and recommend any young entrepreneurial company check it out if you are in need of a welcoming and collaborative home.. Great job Team HEXA!!

John Dankovchik


October 5, 2020